The INC was a distant 2nd runner up in the 2017 Assembly Election and it' s a steep uphill battle for them if they want to regain their power in the State. They recently released their candidate list for the 2022 Uttarakhand Assembly Election. However, the party hasn't yet revealed its CM candidate but here is what we know so far about the candidate list.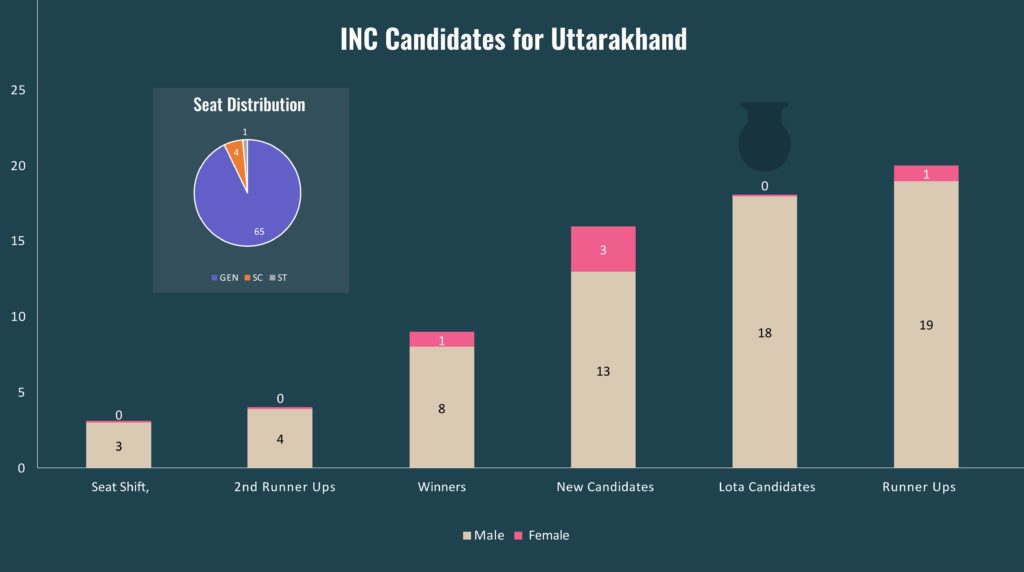 Gender Distribution: 
Out of 70 seats, there are 65 male candidates and 5 female candidates in the list.
New Candidates: 
INC introduced 16 new candidates out of which 13 are male candidates and 3 are female candidates. 
LOTA Candidates: 
There are 18 candidates who switched their allegiances to INC. They include 6 BJP candidates, 4 BSP candidates, 1 RLD candidate, and 7 independent candidates.  
Seat Shift:  
3 candidates have shifted their constituencies. Tilak Raj Behar moved from Rurapur to Kichha constituency for the upcoming election and Harish Rawat shifted from Kichha to Lalkua. And similarly, Hira Singh Bisht has also shifted from Doiwala to Raipur constituency.  
Sitting MLAs: 
The Congress has repeated all the 9 sitting MLAs who won the 2017 Assembly Election with a margin range of 0.78% to 12.1 %. Out of these 9 candidates, 8 are male candidates and 1 female candidate.  
1st Runner Up: 
20 candidates who lost by a margin of 1.43% to 29.43% were given the tickets for the upcoming Assembly Election.  
2nd Runner Up: 
4 candidates who lost by a margin of 2.03% to 11.6% were also given the tickets for the upcoming Assembly Election.  
We will be continuously evaluating the candidate list and sharing our insights. Stay tuned to checkout our data visualisations, explore electoral constituency data, take part in surveys, and engage in stimulating conversations. You can also download our app, available on both Apple store and Play Store.