Category
Designated as a Schedule Tribe Constituency 
Location
Chhota Udaipur Taluka 
Jetpur Pavi Taluka (Part) Villages – Kanda, Borkanda, Chuli, Muvada, Jogpura (Gadh), Gadh, Bhikhapura, Oliya Kalam, Mota Amadra (Kadval), Nana Amadra (Kadval), Kadval, Rajpur (Kadval), Khatas, Jamba, Virpur, Samadi, Kadvapura, Kheda, Selva, Gundi, Zari, Kalikui, Bhabhar, Nani Khandi, Pani, Vadoth, Bar, Moti Khandi, Satun, Ghata, Kundal, Chethapur, Ambakhut,  Vasangadh, Udhaniya, Kevada, Jogpura (Dungar), Intvada, Mudhiyari, Kathola, Zab (Valothi), Narvaniya, Bhanpur, Hathipagla, Raypur, Dhanpur, Chaina, Lunaja, Muthai, Sagadra, Dungarvant, Ghuntia, Ghutanvad, Gambhirpura, Nani Bej, Bhanpuri, Magiya, Kadvakuva, Limbani, Bamroli, Shivajipura, Valothi, Vajpur, Mota Kantva, Nana Kantva, Fatepura, Vanki, Moti Bej, Sajod, Umarva, Khandiya Amadara, Uchapan, Ghagharpura, Segvasimli, Fata, Koliyari, Vaghava, Paliya, Tarapur, Rampura, Vav, Pavi, Jetpur, Moti Rasli, Nani Rasli, Thalki, Dabherai, Gogadiya, Motipura (Gadoth), Nani Bumdi. 
Voter Turnout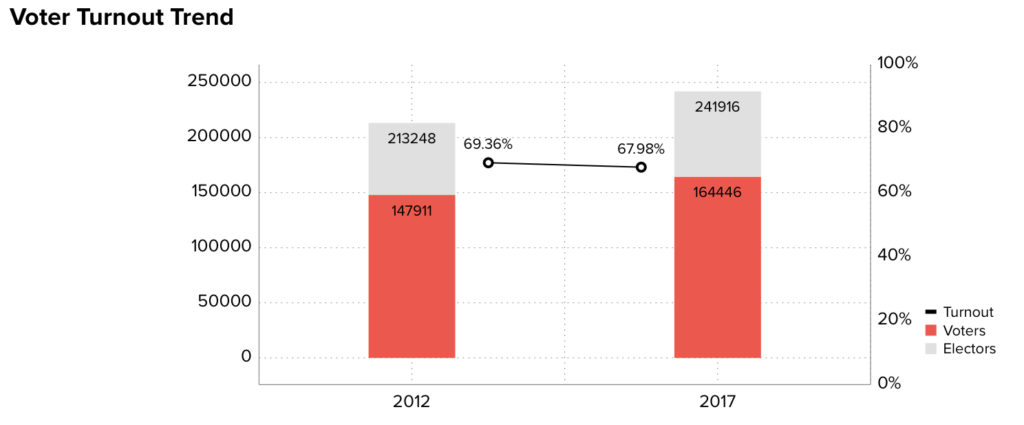 During the 2012 elections, the total number of electors were 2,13,248 and the turnout stood at 69.36%, in real numbers- 1,47,911 voters. 2017 witnessed a turnout decrease; out of the 2,41,916 electors, 67.98% of voters exercised their constitutional rights. In real numbers though it was a reasonable jump-1,64,446 voters.   
Representation and Results
2017's assembly election winner, INC's Mohansinh Rathava gained a vote share of 45.69% and defeated BJP's Jashubhai Rathwa whose vote share stood at 45.03%. The remaining candidate in the fray was AAAP's candidate Arjunbhai Rathva with 2.77 % vote share. 3.57% votes were under NOTA. 
Voting History -2012 & 2017
In 2012, INC won the constituency and earned 65,043 votes which increased to 75,141 votes in 2017. On the other hand, BJP garnered 62,738 votes in 2012 and 74,048 votes in the 2017 elections. BJP gained 1 seat and INC scored the remaining 2 seats in the district of Chhota Udaipur. 
For access to raw data and the constituency map download our Meradesh Platform app- available at both Appstore and Google Play store. Connect with us to explore collaboration opportunities. 
Data Source – Meradesh.org