Location
Bargarh assembly constituency is located in Bargarh district and consists of:  
Bargarh, Bargarh block and part of Barpali block. 
Category
Designated as a General Constituency. 
Voter Turnout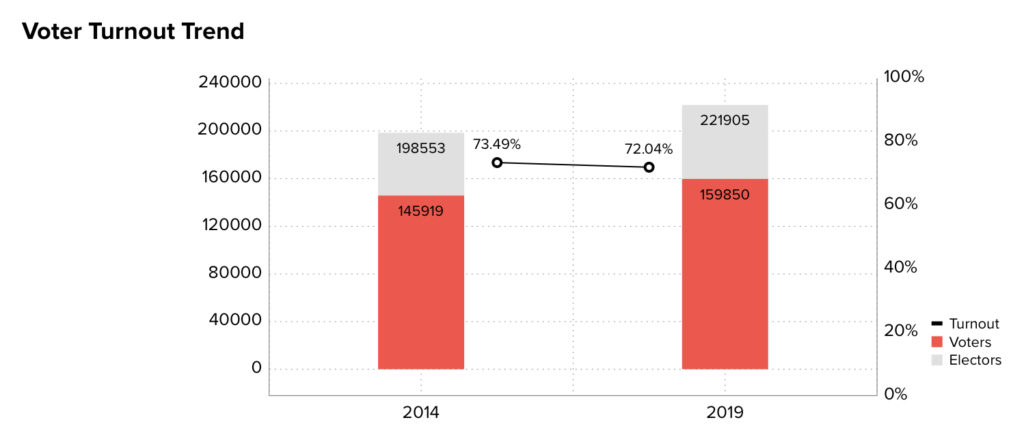 During the 2014 elections, the total number of electors was 198553 and the constituency recorded a 73.49% of polling, in real numbers- 145919 voters. 2019 witnessed a turnout decrease; out of the 221905 electors, 72.04% of voters exercised their constitutional rights. In real numbers though it was a reasonable jump-159850 voters.    
Representation and Results
2019's assembly election winner, BJD's Debesh Acharya gained a vote share of 47.00% and defeated BJP's Ashwani Kumar Sarangi whose vote share stood at 41.70%. The remaining candidates in the fray were INC's Nipon Kumar Dash with 10.20% of vote share and BSP's Kaustuva Budhia with 1.10% vote share.   
Voting History -2014 & 2019
In 2014, BJD won the constituency and earned 59350 votes that increased to 75133 votes in 2019. On the other hand, INC garnered 46146 votes in 2014 and 16305 votes in 2019 while BJP received 22707 votes in 2014 and 66681 votes in 2019. BSP got 1731 votes in 2019. BJD completely dominated the district of Bargarh in 2019 by winning all 5 seats.   
For access to raw data and the constituency map download our Meradesh app- available at both Appstore and Google Play store. Connect with our platform to explore collaboration opportunities.   
Data Source – Meradesh.org