Introduction
The Rajasthan Assembly Elections of 2018 witnessed a high-stakes battle for political supremacy in the state. The assembly elections were held in a single phase on 7th December 2018 to elect members of the 200 constituencies in the state.
A total of 86 political parties and 840 independent candidates participated in the electoral contest, consisting of 6 national political parties, 7 state political parties, and 73 registered unrecognized parties. The voter turnout declined slightly from 75.67 % in the 2013 assembly to 74.72% during the elections.
Party wise result
Party Wise Seats
As the results unfolded, it became evident that neither the Congress nor the BJP had secured an outright majority, with the Congress emerging as the single largest party with 100 seats, falling short just 1 seat of the magic number required for a majority in the 200-member assembly. The BJP secured 73 seats, reflecting the fierce competition.
INC formed the government by coming into alliance with BSP and RLD. Ashok Gehlot was sworn in as the Chief Minister of Rajasthan.
Vote share
Party Wise Vote Share
In the 2018 elections, INC received a vote share of 39.3% whereas BJP managed to garner 38.08% of vote share.
Shift in Vote Share
In 2013, INC experienced a decrease in vote share by 4%, and other parties also witnessed a decline of 7%. However, these losses translated into significant gains for the BJP, which saw an impressive increase of 11% in vote share.
Analyzing the broader trend over a decade, from 2008 to 2018, reveals that both INC and BJP gained in terms of vote share – INC by 2% and BJP by 4%. Meanwhile, regional and state parties collectively suffered a setback, losing 6% of their combined vote share during this period.
Change in seat share
In the 2018 Rajasthan Assembly Elections, there was a notable shift in seat distribution over three elections.
Shift in Seat Share
INC experienced a relatively modest loss of 4% in vote share in 2013, the impact on seat share was substantial, reflecting a decrease of 38% and a loss of 75 seats. Conversely, the Bhartiya Janata Party BJP gained significantly with an 11% increase in vote share, translating into a remarkable gain of 85 seats, representing a 43% increase.
Similarly, in 2018, a modest 6% gain in vote share for the INC translated into a victory of 79 more seats (representing a 40% increase) compared to the 2013 elections. Conversely, a 7% loss in vote share for the BJP resulted in a decrease of 60 seats.
Victory margin  
Victory Margin
The 2018 assembly elections in Rajasthan saw a significant proportion of closely contested victories, with 61% of the seats (122 in total) being decided by a low margin of 0-10%. INC emerged as the front-runner in this category, securing 44% of these close wins, closely followed by the BJP with 38% of victories having a margin of less than 10%.
INC maintained its position as a leading political force, not only securing a significant number of victories in the 0-10% margin category but also leading in all other margin categories.
Lowest and highest winning margin of INC and BJP
Each of the prominent parties displayed areas of dominance and weak victories. The Bharatiya Janata Party (BJP) secured a narrow victory in Asind, with a margin of 0.08%, while achieving their biggest win in Shahpura 1 with a margin of 43.87%.
Lowest & Highest Victory Margin
The Indian National Congress (INC) party's largest victory was in Todabhim with a 44.6% winning margin while their narrowest victory margin was just 0.49% in Dantaramgarh.
Gender wise candidate distribution and success rate
Gender Wise Candidate Distribution
The 2018 Rajasthan Assembly Elections witnessed the participation of a total of 2,294 candidates representing various political parties. Among them, 2,105 were male candidates while the remaining 189 were female candidates.
Success Rate
The election outcome reveals that 176 male candidates and 24 female candidates secured seats in the legislative assembly, indicating a gender-based success rate of 8% for male candidates and 13% for female candidates.
Party wise performance in reserved seats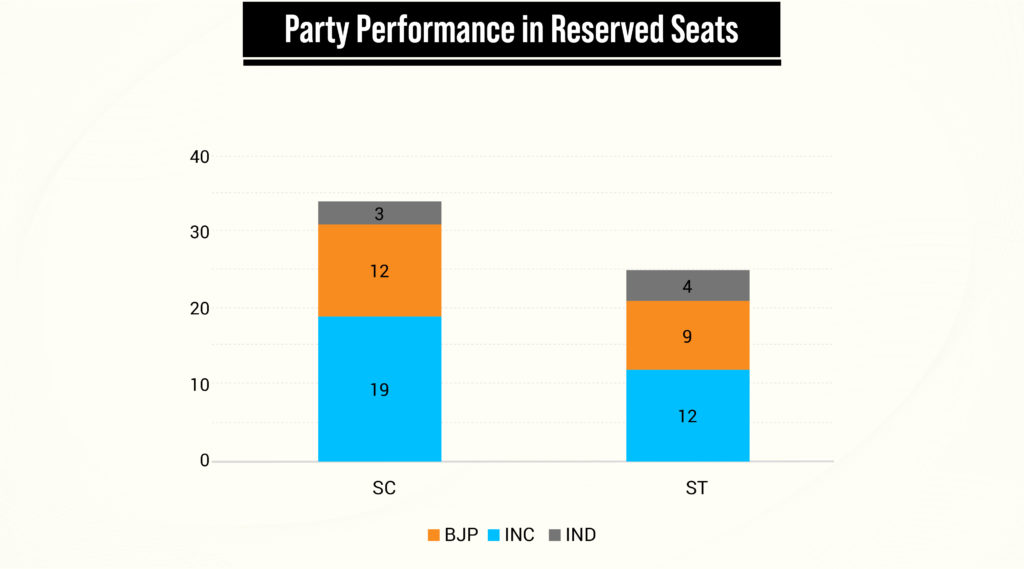 Performance in Reserved Seats
In Rajasthan, out of the total 200 seats in the legislative assembly, 34 seats (17%) are reserved for Scheduled Castes (SC), and 25 seats (12%) are reserved for Scheduled Tribes (ST). In the 2018 elections, the INC secured over half of the SC-reserved seats and approximately 48% of those reserved for ST. The BJP emerged victorious in 36% of seats in both SC and ST categories.
We will be continuously exploring the political landscape of the Rajasthan Assembly in greater depth for the upcoming elections in the state. Stay tuned to check out more with Meradesh App available on Appstore and Play Store.
Reach your constituents, gain insights into their motivations, and build campaigns based on data-driven strategies with the Meradesh Platform