Location
Gautam Buddha Nagar Lok Sabha constituency is one of the 80 Lok Sabha (parliamentary) constituencies in Uttar Pradesh state in northern India. It comprises 5 assembly constituencies and 2 districts.
Category
Designated as a General Constituency.
Voter Turnout
Gautam Buddh Nagar Electoral Turnout Rates
During the 2014 elections, the total number of electors was 19,86,109 and the turnout stood at 60.38%, in real numbers- 11,99,262 voters. 2019 witnessed a turnout increase; out of the 23,02,960 electors, 60.49% of voters exercised their constitutional rights. In real numbers- 13,92,952 voters.
Representation and Results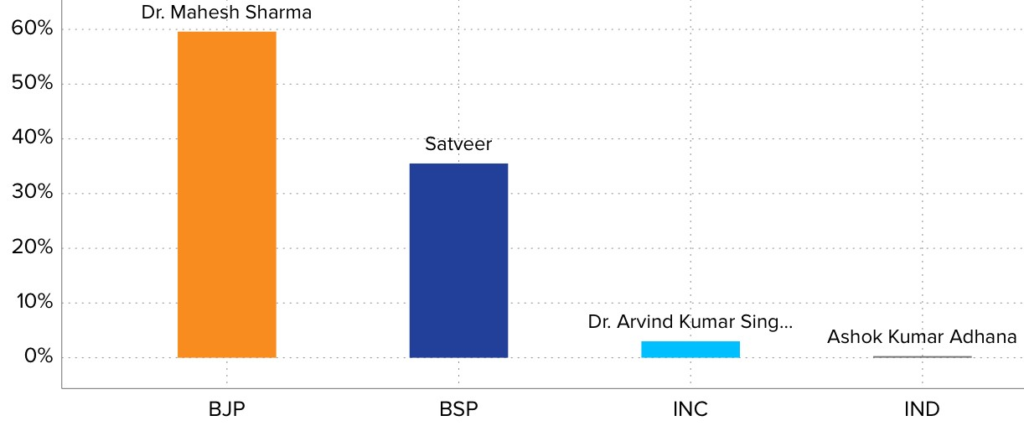 Party Wise Vote Share
2019's parliamentary election winner, BJP's Dr. Mahesh Sharma gained a vote share of 59.60% and defeated BSP's Satveer whose vote share stood at 35.50%. The other prominent candidates in the fray were INC's Dr. Arvind Kumar Singh with a vote share of 3.00% and independent candidate Ashok Kumar Adhana with 0.30% of vote share.
Voting History –2014 & 2019
Party Wise Shift in Votes
In 2014, BJP won the constituency and earned 5,99,702 votes followed by 8,30,812 votes in the 2019 election victory. On the other hand, BSP garnered 1,98,237 votes in 2014 and 4,93,890 votes in the 2019 elections.
Parties at helm through the years
This constituency, spread over Bulandshahr and Gautam Buddha Nagar districts came into existence in 2008 as a part of the implementation of delimitation of parliamentary constituencies based on the recommendations of the Delimitation Commission of India constituted in 2002.
Timeline of Winning Parties
In 2009, the Bahujan Samaj Party (BSP) emerged as the leading political entity, capturing the electorate's confidence in the newly minted Lok Sabha seat. The political landscape underwent a shift in 2014, as the Bharatiya Janata Party (BJP) secured a notable victory. Continuing its momentum, the BJP triumphed once more in 2019, reaffirming its popularity and consolidating their position as the prominent political force in the constituency.
Party-wise success rate
Success Rate
In terms of the success rate in securing the Gautam Buddha Nagar Lok Sabha seat, BJP had exhibited the highest rate of success since the creation of the seat, standing at 67% followed by BSP at 33%.
Gender Wise Distribution of Contestants
During the 2009 elections, there were 26 contestants and 20 of them were male and 6 females, in percentage- 77% and & 23%. In 2014, the total number of contestants decreased to 24, out of which 20 were male and 4 were female, in percentage- 83% and 17%.
Gender Wise Distribution of Candidates
In 2019, on the other hand, the total number of contestants further decreased to 13 whereby all the participants were males.
Gender wise voter turnout
In 2009, out of a total of 15,19,616 electors, 7,38,976 voters cast their ballots. Of the 8,43,436 male electors, 4,40,833 participated in the election, constituting a turnout rate of 52%. There were 6,76,180 female electors and of that, 2,98,143 chose to vote with a turnout rate of 44%.
In 2014, there are 19,86,117 people who are eligible to vote and 11,99,238 of them chose to exercise their right to vote. Out of these, 11,05,855 were male electors and 8,80,262 were female electors. 62% of male electors (6,90,761) and 58% of female electors (5,08,477) cast their ballots.
Gender Wise Voter Turnout
The total count of electors in 2019 was 23,02,960 out of which 13,89,655 chose to cast their ballot in the parliamentary elections. Out of 12,68,324 male electors, only 61% voted which is 7,73,558 male voters in real numbers. On the other hand, the voter turnout for females stood at 60% which translates to 6,16,093 voters out of a total of 10,34,503 female electors in real number.
In 2017, transgender people were included as a separate category of the third gender in electoral rolls. There were 133 electors belonging to the third gender category in the parliamentary constituency during the 2019 elections. And 4 of them exercised their newly granted constitutional right to vote and thus their turnout stood at 3%.
Gender-Wise Literacy Rate
We are taking a peek at the gender-wise literacy rate of the Bulandshahr and Gautam Buddha Nagar districts which are part of the Gautam Buddha Nagar parliamentary constituency as literacy is considered an essential indicator of the socioeconomic development of the region.
Bulandshahr District
The 2011 census of India has pegged the overall literacy rate of the Etah district at 58%. Gender-wise, the male literacy rate in the district is 68% whereas, for females, the literacy rate stands at 47%.
Gender Wise Literacy Rate
Gautam Buddha Nagar District
The overall literacy rate of the district is 68%. However, when it comes to gender, the literacy rate for males in the district stands at 75% while the female literacy rate is 60%.
Stay updated on the electoral statistics for parliamentary constituencies and the changing dynamics on Meradesh App. Available on Appstore and Play Store.
Reach your constituents, gain insights into their motivations, and build campaigns based on data-driven strategies with the Meradesh Platform.
Data Source – Meradesh.org