Manipur's Legislative Assembly elections were held in two phases: 28 February and 5 March 2022, to elect 60 members of the state's Legislative Assembly. The results were declared on 10 March 2022.
Seat Share/ party-wise 
The results highlighted the decline of INC's fortunes all over India and in this important North-Eastern State and BJP's imperviousness. BJP won 32 seats out of 60 with a vote share of 37.83%, while INC earned 5 seats for a vote share of 16.83%. BJP's current dominance of Manipur politics is a statement of its spunk- it gained 11 seats this time and an additional vote share of 2.73% compared to 2017. Besides the national parties, Manipur elections were an expression of regional aspirations. NPP gained 7 seats, NPF earned 5, the debutant KPA won 2 seats and 3 independent candidates secured victories. Bihar based JD(U) turned out to be the wild card entrant with its 6-seat victory.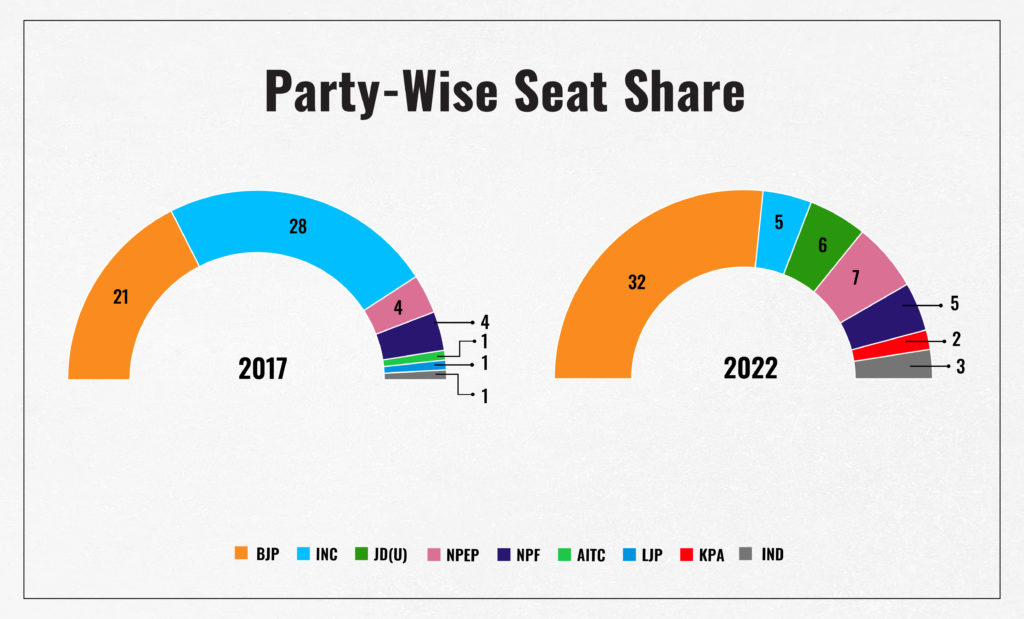 Change in vote share 2017-22 
The main trend when it comes to the Manipur elections is the growth momentum that the local parties have gained. While BJP gained another 1.55% vote share and INC saw a massive fall of 18.28% votes, regional parties like NPEP saw an increase of 12.24%, others (Including KPA, JDU & independent candidates) saw a rise of 7.84% vote share and NPF saw a jump of 0.92%. BJP with its 32-seat victory comfortably crossed the majority mark and is in no need of support.
  Margins
Each of the prominent parties displayed areas of dominance and weak victories. BJP's Usham Deben Singh from Wabgai defeated INC's Md. Fajur Rahim with a margin of 50 votes- this is the tiniest margin of victory in the state. On the other hand, BJP's female candidate SS Olish, from Chandel defeated NPF's Langhu Paulhring Anal with the largest margin of victory in the elections- 27341 votes.
INC's biggest winner was Kangabok's Surjakumar Okram who defeated BJP's Khundrakpam Menjor Mangang with a margin of 7803 votes and INC's weakest winner was Thokchom Lokeshwar Singh from Khundrakpam, who managed to avoid defeat with 215 votes. KPA's two victories secured from Saikul and Singhat were based on a margin of 1249 and 1919 votes respectively.
NPEP's biggest victory was Wangoi with a 3266-vote advantage over BJP, and a measly 549 vote advantage over NPF in Tadubi. JD (U) secured its biggest win at Thangmeiband with 3773 votes and weakest victory with 624, both over BJP. NPF gained a massive advantage of 8513 at Mao over an independent candidate and secured Phungyar with a 779 votes advantage over BJP. The independent candidate at Khangabok won with 7803 votes and the one at Kheishamthong won with an advantage of 187 votes.
Candidates    
In the first phase of polling on February 28, 173 candidates, including 15 women, contested across 38 assembly constituencies in five districts, while in the second phase of polling, 92 candidates, including two women, contested from 22 assembly constituencies spread across six districts. The result data states that 55 male and 5 female candidates qualified to join the legislative assembly. A gender-wise success rate of 22.18% for men and 29.41% for women.
Lota Candidates  
Overall, 46 Lota candidates participated in the elections, out of which 11 were successful. BJP as a party benefited most from Lota candidates and the second most successful was NPEP. The success rate for BJP was 72.70% and for NPEP was 27.30%.
Data analyzed and visualized by Harleen and Akanksha Gakhar