Allahabad is a Lok Sabha / Parliamentary constituency in Uttar Pradesh and is located in Central India. It is designated as a general constituency.     
In 2009, out of a total of 12,66,910 electors, 5,50,154 voters cast their vote. In this election, the total number of male electors was 6,94,959 and the male voter turnout stood at 47%, in real numbers- 3,24,238. There were 5,71,951 female electors, of which 39% chose to exercise their constitutional right to vote, in real numbers- 2,25,916 voters.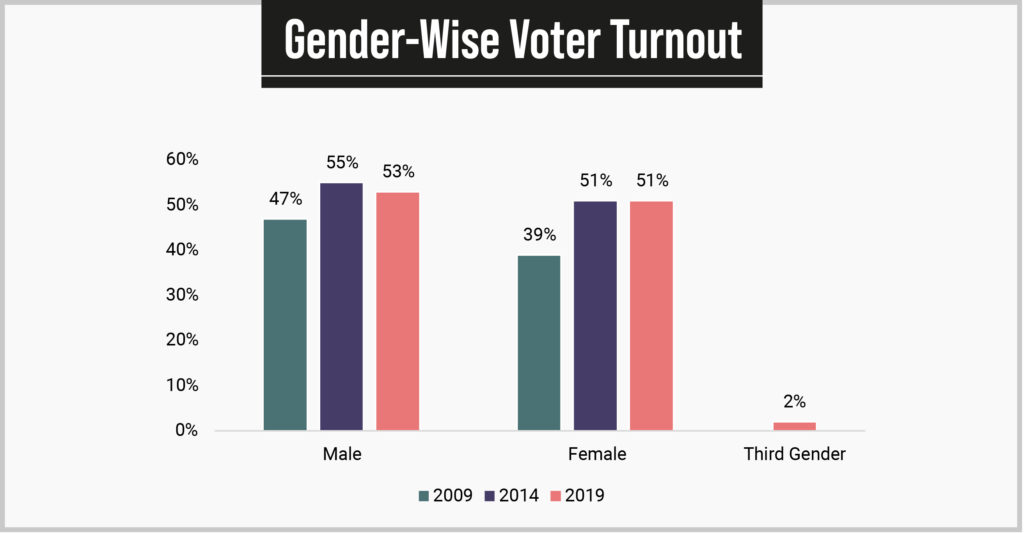 In 2014, the constituency had 186,66,569 electors in total and 8,91,582 of them chose to exercise their right to vote. In total, there were 9,17,403 male electors and 7,49,166 female electors. Out of that, 55% of male electors cast their ballot i.e 5,07,043 voters in real numbers and for female electors, the turnout stood at 51%, in real numbers- 3,84,539 voters.  
The total count of electors in 2019 was 17,16,160 out of which 8,86,815 chose to cast their ballot in the parliamentary elections. Out of 9,40,120 male electors, only 53% voted which is 4,94,017 male voters in real numbers. On the other hand, the voter turnout for females stood at 51% which translates to 3,92,794 voters out of a total of 7,75,850 female electors in real number.    
In 2017, transgender people were included as a separate category of the third gender in electoral rolls. There were 194 electors belonging to the third gender category in the parliamentary constituency during the 2019 elections. Only 4 of them exercised their newly granted constitutional right to vote and thus their turnout stood at 2%.   
 To gain more electoral insight into the Allahabad Lok Sabha constituency, view Parliamentary Constituency Watch: Allahabad      
Stay updated on the electoral statistics for parliamentary constituencies and the changing dynamics on Meradesh App. Available on Appstore and Play Store.     
Reach your constituents, gain insights into their motivations, and build campaigns based on data-driven strategies with the Meradesh Platform.    
Data Source – Meradesh.org