Location  
Allahabad Lok Sabha constituency is one of the 80 Lok Sabha constituencies in the Indian state of Uttar Pradesh. It comprises the Prayagraj district and 5 assembly constituencies. 
 Category 
Designated as a General Constituency. 
Voter Turnout 
During the 2014 elections, the total number of electors was 16,66,569 and the turnout stood at 53.50%, in real numbers- 8,91,582 voters. 2019 witnessed a turnout decrease; out of the 16,79,883 electors, 52.92% of voters exercised their constitutional rights. In real numbers- 8,89,056 voters.    
Representation and Results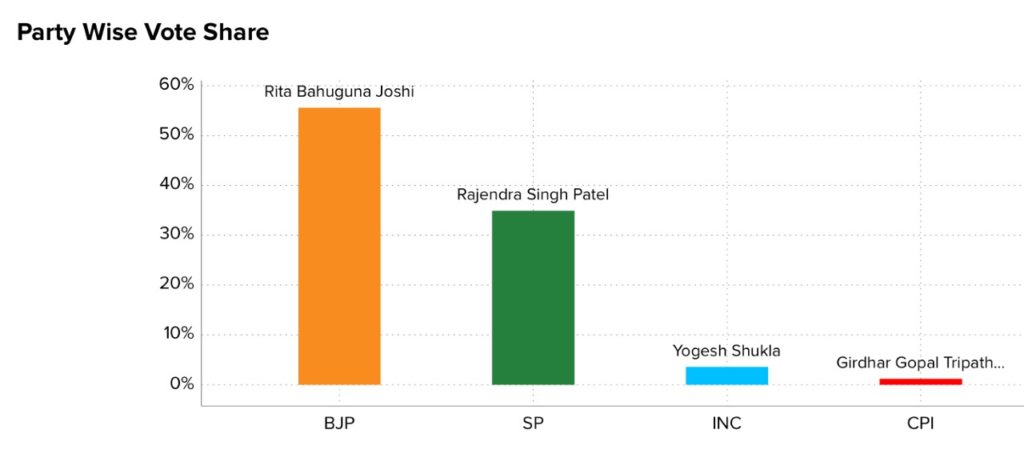 2019's parliamentary election winner, BJP's Rita Bahuguna Joshi gained a vote share of 55.60% and defeated SP's Rajendra Singh Patel whose vote share stood at 34.90%. The other prominent candidates in the fray were INC's Yogesh Shukla with 3.60% and CPI's Girdhar Gopal Tripathi with a 1.20% vote share.   
Voting History –2014 & 2019 
In 2014, BJP won the constituency and earned 3,13,772 votes and 4,94,454 votes in 2019. On the other hand, INC garnered 1,02,453 votes in 2014 and 31,953 votes in 2019. SP received 3,10,179 votes in the 2019 elections. 
Stay updated on the electoral statistics for parliamentary constituencies and the changing dynamics on Meradesh App. Available on Appstore and Play Store.   
Reach your constituents, gain insights into their motivations, and build campaigns based on data-driven strategies with the Meradesh Platform.   
Data Source – Meradesh.org