Location
Titlagarh assembly constituency is located in Balangir district and consists of:  
Titlagarh, Titilagarh block, Saintala block and Tentulikhunti (Gudvella) block. 
Category
Designated as a General Constituency. 
Voter Turnout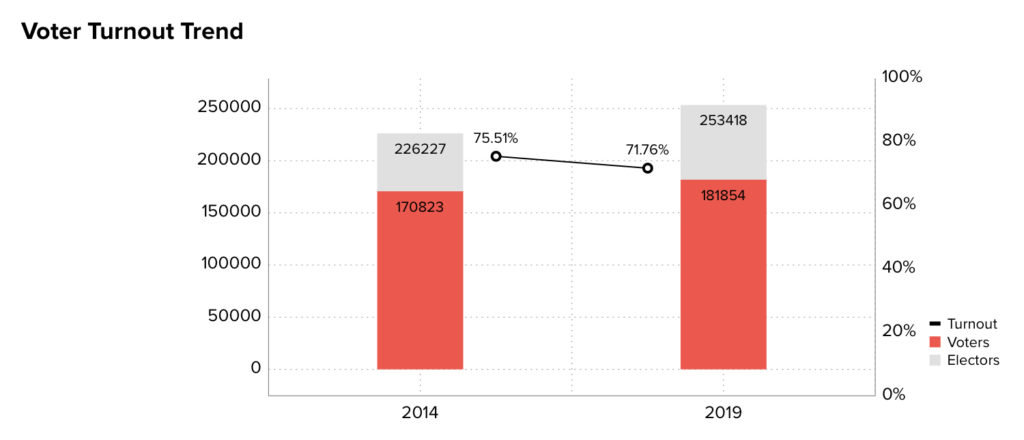 During the 2014 elections, the total number of electors was 226227 and the turnout stood at 75.51%, in real numbers- 170823 voters. 2019 witnessed a turnout decrease; out of the 253418 electors, 71.76% of voters exercised their constitutional rights. In real numbers, though it was a reasonable jump-181854 voters.    
Representation and Results
2019's assembly election winner, BJD's Tukuni Sahu gained a vote share of 40.20% and defeated INC's Surendra Sing Bhoi whose vote share stood at 29.50%. The remaining candidates in the fray were BJP's Ashok Dora with 26.00% of vote share and BSP's Bibhisan Nag with 1.40% vote share.  
Voting History -2014 & 2019
In 2014, BJD won the constituency and earned 71858 votes and 73172 votes in 2019. On the other hand, INC garnered 57836 votes in 2014 and 53585 votes in 2019 while BJP received 25617 votes in 2014 and 47341 votes in 2019. BSP got 2555 votes in the 2019 elections. BJD and INC both won 2 seats each in the district of Balangir in 2019. BJP managed to secure 1 seat.  [                                                                 For access to raw data and the constituency map download our Meradesh app- available at both Appstore and Google Play store. Connect with our platform to explore collaboration opportunities.   
Data Source – Meradesh.org