Location
Talala assembly constituency is located in Gir Somnath district and consists of:  
Mandorana 
Talala Taluka 
Sutrapada Taluka 
Mendarda Taluka (Part) Village – Lakadveri nes. 
Category
Designated as a General Constituency. 
Voter Turnout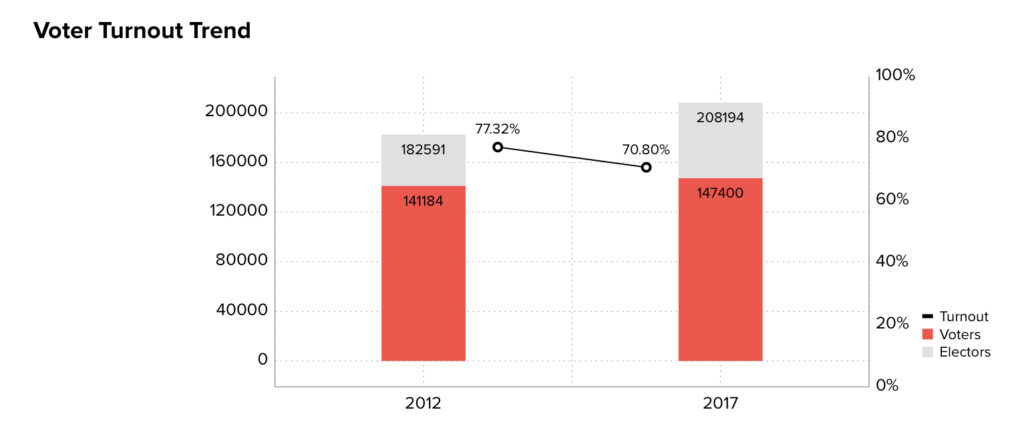 During the 2012 elections, the total number of electors was 182591 and the constituency recorded 77.32% polling, in real numbers- 141184 voters. 2017 witnessed a turnout decrease; out of the 208194 electors, 70.80% of voters exercised their constitutional rights. In real numbers though it was a reasonable jump-147400 voters.    
Representation and Results
2017's assembly election winner, INC's Ahir Bhagabhai Dhanabhai Barad gained a vote share of 58.27% and defeated BJP's Parmar Govindbhai Varjangbhai whose vote share stood at 36.75%. The remaining candidate in the fray was BSP's Thumar Vrujlal Khimabhai with 1.47% vote share. 0.83% of votes were under NOTA.   
Voting History -2012 & 2017
In 2012, INC won the constituency and earned 62722 votes that increased to 85897 votes in 2017. On the other hand, BJP garnered 61244 votes in 2012 and 54167votes in 2017. BSP got 3017 votes in 2012 and 2171 votes in 2017. INC completely dominated the district of Gir Somnath in 2017 by winning all 4 seats in contention.  
For access to raw data and the constituency map download our Meradesh app- available at both Appstore and Google Play store. Connect with our platform to explore collaboration opportunities.   
Data Source – Meradesh.org