Location
Rajkot Rural assembly constituency is located in Rajkot district and consists of:  
Kotda Sangani Taluka. 
Rajkot Taluka (Part) Villages – Aniyala, Badpar, Bhangda, Bhayasar, Bhupgadh, Chitravav, Dhandhiya, Dhandhni, Dungarpar, Golida, Hadmatiya (Golida), Halenda, Haripar, Hodthali, Kalipat, Kankot, Kasturbadham, Kathrota, Kharachiya, Khokhadadad, Kothariya, Lakhapar, Lampasari, Lodhida, Lothada, Makanpar, Mota Mava, Munjka, Navagam, Padasan, Ramnagar, Rampara, Sajadiali Lili, Sajadiali Suki, Samadhiyala, Sar, Sardhar, Umrali, Vajdi (Virda), Vavdi, Vadali. 
Lodhika Taluka – Entire taluka except village – Und Khijadiya. 
Rajkot Taluka (Part) – Rajkot Municipal Corporation (Part) Ward No. – 21. 
Category
Designated as a Scheduled Castes Constituency. 
Voter Turnout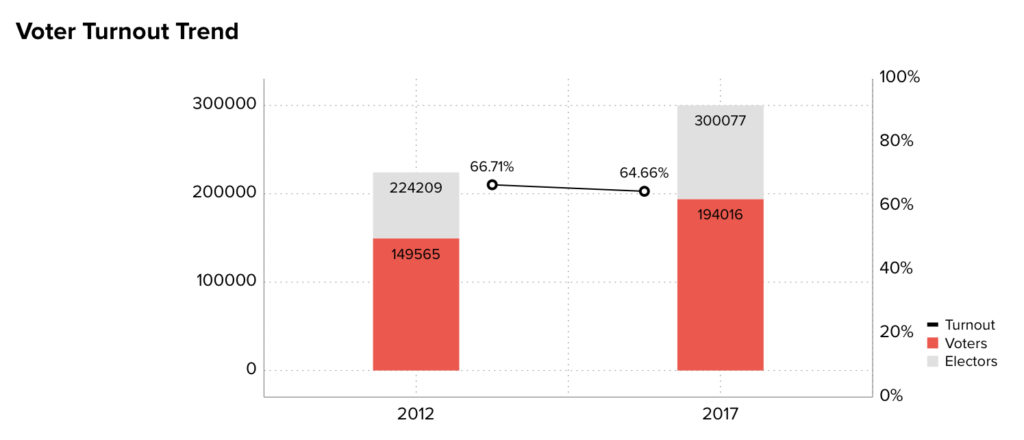 During the 2012 elections, the total number of electors was 224209 and the constituency recorded 66.71% polling, in real numbers the turnout was- 149565 voters. 2017 witnessed a turnout decrease; out of the 300077 electors, 64.66% of voters chose to cast their vote. In real numbers though it was a reasonable jump-194016 voters.    
Representation and Results
2017's assembly election winner, BJP's Lakhabhai Sagathiya gained a vote share of 47.48% and defeated INC's Vashrambhai Alabhai Sagathiya whose vote share stood at 46.35%. The remaining candidate in the fray was BSP's Kiranbhai Dhanjibhai Makwana with 1.71% vote share. 1.32% of votes were under NOTA.   
Voting History -2012 & 2017
In 2012, BJP won the constituency and earned 57753 votes that increased to 92114 votes in 2017. On the other hand, INC garnered 46287 votes in 2012 and 89935 votes in 2017. BSP got 3723 in 2012 and 3323 votes in the elections of 2017. BJP placed itself in a dominant position by securing 6seats in the district of Rajkot in 2017 elections. INC managed to win 2 seats. 
For access to raw data and the constituency map download our Meradesh app- available at both Appstore and Google Play store. Connect with our platform to explore collaboration opportunities.   
Data Source – Meradesh.org