Location
Patkura assembly constituency is located in Kendrapara district and consists of:  
Derabish block, Garadapur and 7 Gram panchayats (Jalapoka, Karilopatna, Aitipur, Jamapada, Mehendinagar, Bachharai and Bandhakata) of Marshaghai block. 
Category
Designated as a General Constituency. 
Voter Turnout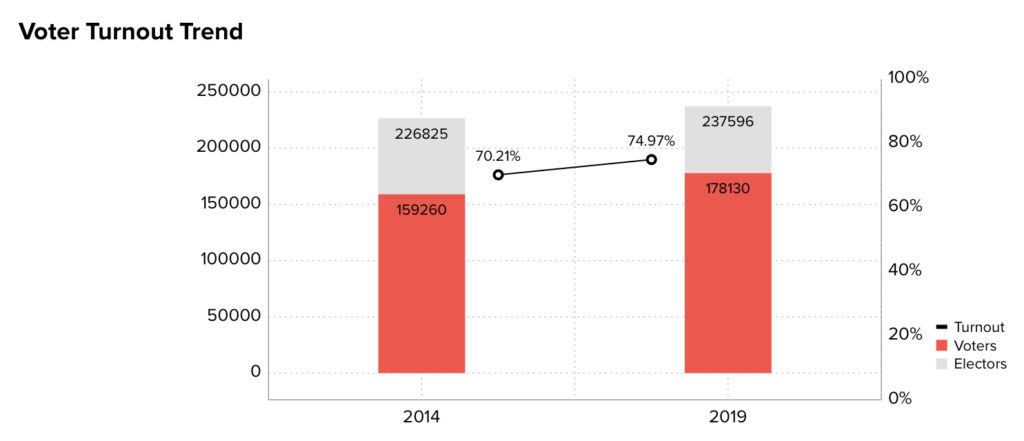 During the 2014 elections, the total number of electors was 226825 and the turnout stood at 70.21%, in real numbers- 159260 voters. 2019 witnessed a turnout increase; out of the 237596 electors, 74.97% of voters exercised their constitutional rights. In real numbers, it was a reasonable jump-178130 voters.    
Representation and Results
2019's assembly election winner, BJD's Sabitri Agarwalla gained a vote share of 54.48% and defeated BJP's Bijoy Mohapatra whose vote share stood at 44.37%. The remaining candidate in the fray was INC's Jayanta Kumar Mohanty with 1.20% vote share.  
Voting History -2014 & 2019
In 2014, BJD won the constituency and earned 89853 votes and 96030 votes in 2019. On the other hand, BJP garnered 21588 votes in 2014 and 78132 votes in 2019 while INC received 42138 votes in 2014 and 2104 votes in 2019. BJD completely dominated the district of Kendrapara in 2019 by winning all 5 seats.   
For access to raw data and the constituency map download our Meradesh app- available at both Appstore and Google Play store. Connect with our platform to explore collaboration opportunities.   
Data Source – Meradesh.org