Location
 Kheralu assembly constituency is located in Mahesana district and consists of:  
Satlasana Taluka 
Kheralu Taluka 
Vadnagar Taluka (Part) Villages – Sipor, Karshanpura, Khatasana, Dabu, Aspa, Vaktapur, Ganeshpura, Undani, Khanpur, Sarna, Champa, Navapura, Sultanpur, Shahpur (Vad), Undhai, Valasana, Vaghdi (Juni), Vaghadi (Navi), Shobhasan, Pipaldar, Karbatiya, Sabalpur, Rajpur (Vad), Mirzapur. 
Category
Designated as a General Constituency. 
Voter Turnout
During the 2012 elections, the total number of electors was 177837 and the constituency witnessed 71.36 polling, in real numbers- 126903 voters. 2017 witnessed a turnout increase; out of the 200990 electors, 72.46% of voters exercised their constitutional rights. In real numbers it amounts to 145645 voters.    
Representation and Results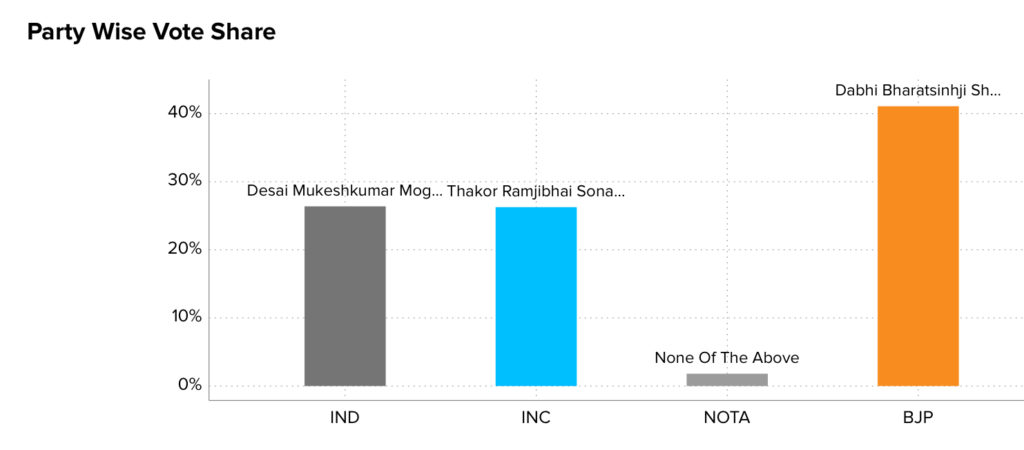 2017's assembly election winner, BJP's Dabhi Bharatsinhji Shankarji gained a vote share of 41.09% and defeated independent candidate Desai Mukeshkumar Moghjibhai whose vote share stood at 26.39%. The remaining candidate in the fray was INC's Thakor Ramjibhai Sonaji with 26.27% vote share. 1.81% of votes were under NOTA.   
Voting History -2012 & 2017
In 2012, BJP won the constituency and earned 68195 votes that decreased to 59847 votes in 2017, however sufficient to ensure a victory for the party. On the other hand, INC garnered 49809 votes in 2012 and 38254 votes in 2017. BJP emerged as the leading party in the district of Mahesana in 2017 by securing 5 seats. INC managed to claim 2 seats.  
For access to raw data and the constituency map download our Meradesh app- available at both Appstore and Google Play store. Connect with our platform to explore collaboration opportunities.   
Data Source – Meradesh.org