Location
 Jhalod assembly constituency is located in Dahod district and consists of:  
Jhalod Taluka (Part) Villages – Garadu, Dhavadiya, Bambela, Rajadiya, Kheda, Amba Jharan, Thunthi Kankasiya, Mahudi, Chhasiya, Ghensva, Maghanisar, Hadmat Khunta, Kharsana, Anvarpura, Sitavatli, Rajpur, Velpura, Kaliya Talav, Mun Khosla, Shankarpura, Fulpura, Timachi, Rampura, Raypura, Gamdi, Jafarpura, Chitrodiya, Devjini Sarasvani, Kalajini Sarsavani, Jetpur, Melaniya, Therka, Vagela, Ghodiya, Khakhariya, Nansalai, Bajarvada, Sarmariya, Varod, Sampoi, Tandi, Raniyar Kanbi, Paniya, Chakaliya, Pethapur, Mudaheda, Lilva Pokar, Raniyar Inami, Lilva Thakor, Nime Varod, Kuni, Simaliya, Kharvani, Vankol, Limdi, Lilva Deva, Malvasi, Piplod, Kankara Kuva, Kachaldhara, Chatka, Dhola Khakhara, Kotda, Sabli, Raliyati Bhura, Parthampur, Rupakheda, Karath, Nani Handi, Pareva, Pipaliya, Dungri, Thala (Limdi), Mundha, Golana, Suthar Vasa, Amba, Bilwani, Moti Handi, Dageriya, Vasti, Pavdi (Inami), Mirakhedi, Kaligam (Inami), Kaligam (Gujar), Dhara Dungar, Tadhagola, Dantiya, Raliati Gujjar, Gultora, Tatariya, Sharda, Chhayan, Jhalod (M). 
Category
Designated as a Scheduled Tribes Constituency. 
Voter Turnout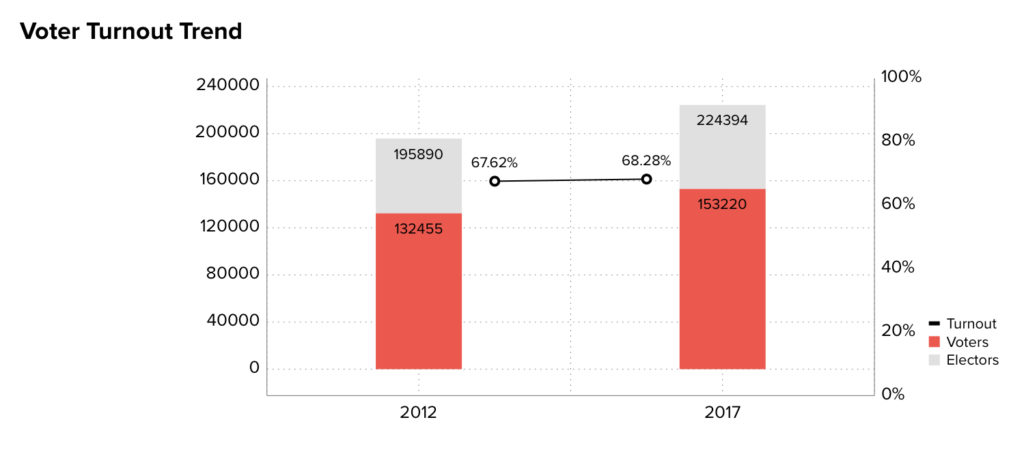 During the 2012 elections, the total number of electors was 195890 and the turnout stood at 67.62%, in real numbers- 132455 voters. 2017 witnessed a turnout increase; out of the 224394 electors, 68.28% of voters chose to cast their vote. In real numbers it amounts to 153220 voters.    
Representation and Results
2017's assembly election winner, INC's Katara Bhaveshbhai Babubhai gained a vote share of 56.18% and defeated BJP's Bhuriya Maheshbhai Somjibhai whose vote share stood at 39.59%. 3.44% of votes were under NOTA.   
Voting History -2012 & 2017
In 2012, INC won the constituency and earned 78077 votes that increased to 86077 votes in 2017. On the other hand, BJP garnered 38004 votes in 2012 and 60667 votes in 2017.   Both BJP and INC gained 3 seats each in the district of Dahod in 2017 elections. 
For access to raw data and the constituency map download our Meradesh app- available at both Appstore and Google Play store. Connect with our platform to explore collaboration opportunities.   
Data Source – Meradesh.org