Location
Barabati-Cuttack assembly constituency is located in Cuttack district and consists of:  
25 wards of Cuttack. 
Category
Designated as a General Constituency. 
Voter Turnout
During the 2014 elections, the total number of electors was 210076 and the turnout stood at 59.89%, in real numbers- 125824 voters. 2019 witnessed a turnout decrease; out of the 235770 electors, 56.16% of voters exercised their constitutional rights. In real numbers though it was a reasonable jump-132420 voters.    
Representation and Results
2019's assembly election winner, INC's Mohammed Moquim gained a vote share of 37.90% and defeated BJD's Debashish Samantaray whose vote share stood at 35.10%. The remaining candidates in the fray were BJP's Samir Dey with 25.50% of vote share and an independent candidate Hemanta Behera with 0.60% vote share.  
Voting History -2014 & 2019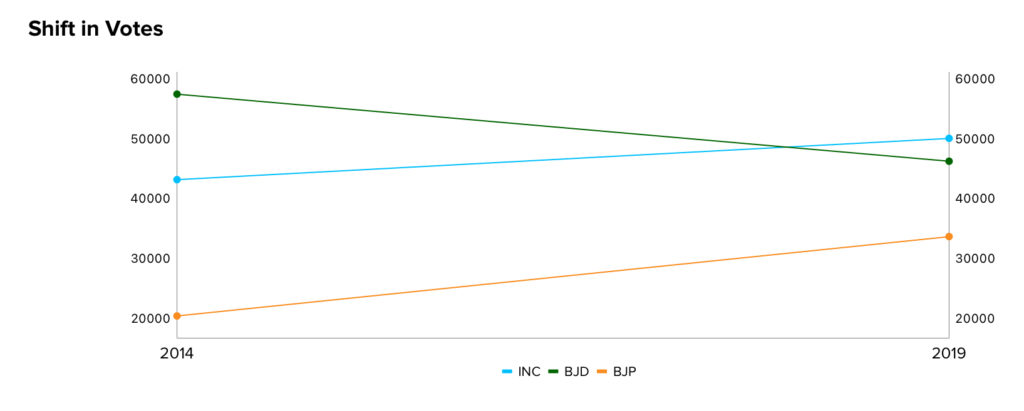 In 2014, BJD won the constituency and earned 57633 votes that decreased to 46417 votes in 2019. On the other hand, INC garnered 43335 votes in 2014 and 50244 votes to win in 2019 while BJP got 20552 votes in 2014 and 33825 votes in 2019. BJD emerged as the dominating party in the district of Cuttack in 2019 by winning 8 seats while the remaining 1 seat went to INC. 
For access to raw data and the constituency map download our Meradesh app- available at both Appstore and Google Play store. Connect with our platform to explore collaboration opportunities.   
Data Source – Meradesh.org