Location
 Balasore assembly constituency is located in Baleshwar district and consists of:  
Balasore and 18 GPs (Kasipada, Rasulpur, Srirampur, Kasafal, Sartha, Bahabalpur, Chhanua, Haladipada, Olandasaragan, Odangi, Nagaram, Buanl, Sindhia, Gopinathpur, Parikhi, Patrapada, Kuradiha and Srikona) of Balasore block. 
Category
Designated as a General Constituency. 
Voter Turnout
During the 2014 elections, the total number of electors was 200405 and the turnout stood at 72.39%, in real numbers- 145082 voters. 2019 witnessed a turnout decrease; out of the 223349 electors, 70.58% of voters exercised their constitutional rights. In real numbers though it was a reasonable jump-157645 voters.    
Representation and Results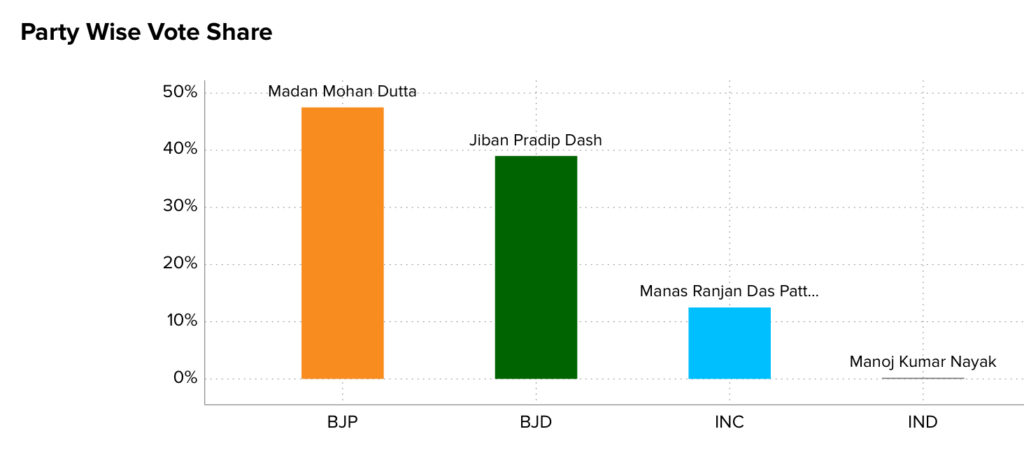 2019's assembly election winner, BJP's Madan Mohan Dutta gained a vote share of 47.50% and defeated BJD's Jiban Pradip Dash whose vote share stood at 39.00s%. The remaining candidates in the fray were INC's Manas Ranjan Das Pattanaik with 12.50% of vote share and an independent candidate Manoj Kumar Nayak with 0.20% vote share.    
Voting History -2014 & 2019
In 2014, BJD won the constituency and earned 47615 votes and 61409 votes in 2019. On the other hand, BJP garnered 37824 votes in 2014 and 74815votes in 2019 while INC got 28650 votes in 2014 and 19704 votes in 2019. BJD emerged as the prominent party in the district of Baleshwar in 2019 by winning 6 seats. BJP managed to register wins in the remaining 2 seats. 
For access to raw data and the constituency map download our Meradesh app- available at both Appstore and Google Play store. Connect with our platform to explore collaboration opportunities.   
Data Source – Meradesh.org